MASALA BARRAMUNDI
Masala Barramundi is a spicy, flavorful fish curry that will become your new favorite.
The delicious and sustainable barramundi tastes awesome when cooked the Indian way. This exciting recipe is just what you need to banish those Monday blues.

Barramundi is a sweet non-fishy fish that tastes good in almost every way you prepare it. It is unique in the sense that it has a mild flavor and toothsome texture minus the fishy odor. With its moderate fat content, this fish is easier to cook too. So, if the thought of cooking or eating fish intimidates you, try this recipe, it may change your mind.
WHAT IS BARRAMUNDI?
Barramundi is a sustainable, white fish with a meaty and buttery texture. It is mild with no fishy odor and loaded with omega-3 fatty acids. It is alternatively known as the Asian sea bass is a species of catadromous fish in the family Latidae of the order Perciformes. The species is widely distributed in the Indo-West Pacific region from South Asia to Papua New Guinea and Northern Australia. The fish is known as Pla Kapong in Thai and as Bhetki in Bengali. Some of its other names include Giant Perch, Palmer, Cockup, Nairfish, Silver Barramundi, and Australian Seabass.

WHERE CAN I GET BARRAMUNDI?
Barramundi is a common fish in Asia and Australia. I thought it could be a bit of a challenge to find it here in the US, but I grabbed it when it showed up at Costco. It is packed and marketed by a company called Australis. I went to their website to learn that now you can also find them at Whole Foods Market, BJ's Club Stores, Albertsons, Safeway, Sprout's Farmers Market, Harris Teeter, Giant Eagle, Vons, Schnucks Market, Fresh Thyme, Market Basket, Rouses Market, Mariano's, Dierbergs Market, 99 Ranch Market, MOM's Organic Market, Pete's Fresh Market, and more!

SOME FUN FACTS ABOUT BARRAMUNDI
Don't you find the name Barramundi intriguing? Well, I do. The name barramundi is aboriginal and means large-scaled silver-hued fish.

Did you know all barramundi are born male? Surprisingly it's true, they transform into females when they are three to four years old. I figured this would mean female barramundi would always end up dating younger men! Funny, isn't it?

Just like some big trees, a Barramundi's age is determined by counting growth rings on its scales.

Barramundi spawn on the full moon and their iridescent skin can be seen shimmering through the water during their love dance.

Being a catadromous fish, Barramundi is born in the ocean and lives in freshwater, but they can also live in saltwater and estuaries.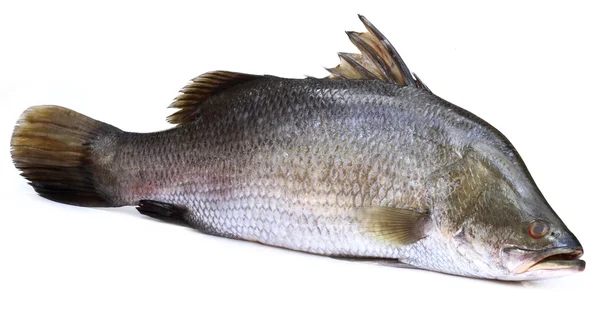 BARRAMUNDI IN FOLKLORE
Two forbidden lovers Boodi and Yalima after running to the end of the land fighting against their tribe made the ultimate sacrifice to uphold the sanctity of their love by jumping into the ocean. To this day, they are believed to live at the bottom of the sea assuming the shape of Barramundi.
This folktale doesn't end here, it is believed that it is due to this reason that barramundi has special aphrodisiac qualities. Aboriginals therefore still refer to Barramundi as Passion Fish.

So you see there is so much to this fish than the simple fact that it is incredibly tasty. So, without any further digression, let's jump to the recipe.

ABOUT THE RECIPE
The recipe comes together so fast, that you will have dinner on the table in less than 30 minutes. Barramundi, being a mild fish, beautifully soaks up the flavors from the gravy. The gravy which otherwise has a luscious texture is pleasantly interrupted by the toothsome sweet peppers which further amp up the flavor. With every bite, all of the flavors and textures will come together in your mouth making you swoon. On a bed of piping hot rice, Masala Barramundi tastes like heaven!

INGREDIENTS
You will require a few basic ingredients that you probably already have in your pantry. So, here is the list of ingredients:

Barramundi

Onion, Ginger, Tomato, sweet red pepper, and green chilies

Whole spices (Bay leaf, cinnamon, clove, cardamom, cumin seeds, whole dry red chili)

Powdered spices (Turmeric, Kashmiri red chili, cumin, garam masala)

Oil, salt, and sugar
HOW TO MAKE IT?
The recipe is quite easy and if you are cooking fish for the first time, this is a good place to start. Here is what you have to do:
Cut the fillet into pieces as desired. Rub them with some turmeric powder and salt.

Blend the onion, tomato, ginger, and green chili to make a fine paste.

Heat oil in a pan. Shallow fry the fish pieces until they are rich golden. Keep aside.

Temper the same oil with the whole spices.

When the whole spices splutter, add the onion paste. Keep stirring at medium flame.

Add salt and powdered spices. Keep cooking till the oil separates.

Add this point add the thinly sliced red pepper and sugar. Keep cooking for 1-2 minutes.

When the oil seeps through the sides of the pan, add a cup of warm water and adjust the salt.

When the gravy comes to a boil, add the fried fish pieces and simmer for 2-3 minutes or until the gravy reaches your desired consistency.

Sprinkle some garam masala and turn off the gas. Keep covered for a couple of minutes before serving.
FREQUENTLY ASKED QUESTIONS
How does Barramundi taste?
Barramundi has a fleshy, buttery texture without a fishy odor. It easily soaks up the flavors of the sauce it is cooked in.

Can I use Barramundi steaks instead?
I have used Barramundi fillet for this recipe but you could also use the fish steaks. The recipe would still be the same.

Is Barramundi healthy?
Barramundi is full of nutrients and is a very healthy choice. Barramundi is rich in omega-3 fatty acids, healthy fats, protein, vitamin D, vitamin A, sodium, and potassium. It has a relatively low content of harmful chemicals like mercury and PCBs.

What other types of fish can be used to make this?
You can use any firm white fish for this recipe. Other fish like pomfret, branzini, sardine, basa, Mahi Mahi, are also great choices. You can also use seafood like shrimps and crabs to make this.

SERVING SUGGESTION
Baramundi Masala is best enjoyed with steamed plain white rice and a wedge of lemon on the side. For a healthier option, you can also serve it with cauliflower rice.
STORING SUGGESTIONS
You can store the Masala Barramundi in a refrigerator in airtight containers for up to 3-4 days. After that, the gravy becomes watery which is another reason it does not freeze well.